Archive for February, 2013
by SteamDesigns on Feb.08, 2013, under Our Current Range, Steampunk Jewelry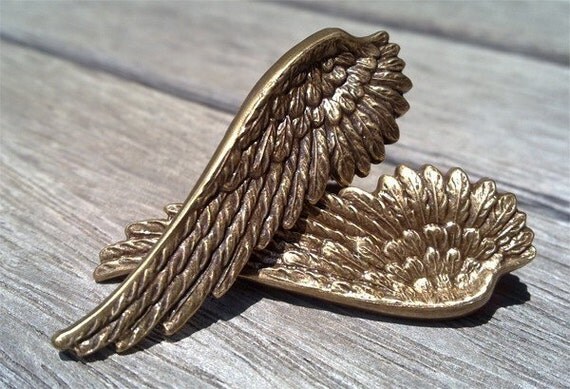 29.95USD
Angel Wing Earrings Gold Wing Clip On

Our angel wing earrings clip on and remain in place.

~ Materials ~
Brass Stampings
Earring Clips

~ Measurements ~
Length: 52mm
Width: 18mm
All measurements are at the longest/widest points.

~ Section ~
View more of our stunning jewelry from this section:
http://www.etsy.com/shop/SteamDesigns?section_id=6630738

~ Feedback ~
Want to know how others feel about us, check out our feedback:
http://www.etsy.com/people/SteamDesigns/feedback

~ Policies ~
Please read and understand our policies before purchasing:
http://www.etsy.com/shop_policy.php?user_id=8727143

~ Shipping ~
As always you will receive free standard ship anywhere in the world, standard shipping does not include insurance or tracking, proof of shipping can be requested in the form of a scanned image of the receipt from Australia post. Contact us prior to purchase for more options.
Shipping is estimated to take 7-14 working days for most places in the world and less for Australia.
In the event that your Etsy shipping address and PayPal shipping address do not match we will try to contact you, if after a couple of days we have received no reply from you we will ship your order to your Etsy shipping address. If you have any quires please contact us before purchase.

~ Leaving Feedback ~
Steam Designs will leave feedback for every customer once a transaction is 100% complete. This means once an item has been received by the buyer and feedback on the item has been left. If you have any issues when leaving feedback please contact us and we will be more than happy to help.

(Steampunk Jewelry by Steam Designs)
Comments Off
:jewelry, steam designs, steampunk, steampunk jewelry, watch movement
more...
by SteamDesigns on Feb.05, 2013, under Our Current Range, Steampunk Jewelry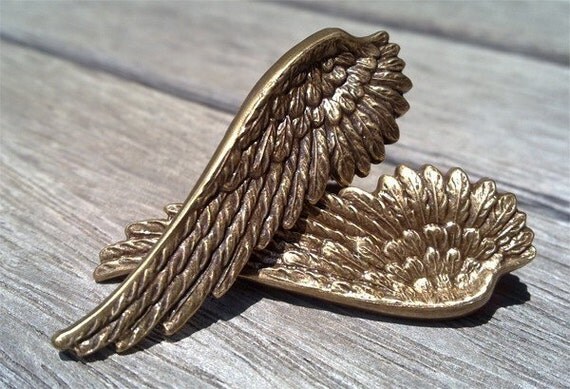 $29.95 USD
Angel Wing Earrings Gold Wing Clip On

Our angel wing earrings clip on and remain in place.

~ Materials ~
Brass Stampings
Earring Clips

~ Measurements ~
Length: 52mm
Width: 18mm
All measurements are at the longest/widest points.

~ Section ~
View more of our stunning jewelry from this section:
http://www.etsy.com/shop/SteamDesigns?section_id=6630738

~ Feedback ~
Want to know how others feel about us, check out our feedback:
http://www.etsy.com/people/SteamDesigns/feedback

~ Policies ~
Please read and understand our policies before purchasing:
http://www.etsy.com/shop_policy.php?user_id=8727143

~ Shipping ~
As always you will receive free standard ship anywhere in the world, standard shipping does not include insurance or tracking, proof of shipping can be requested in the form of a scanned image of the receipt from Australia post. Contact us prior to purchase for more options.
Shipping is estimated to take 7-14 working days for most places in the world and less for Australia.
In the event that your Etsy shipping address and PayPal shipping address do not match we will try to contact you, if after a couple of days we have received no reply from you we will ship your order to your Etsy shipping address. If you have any quires please contact us before purchase.

~ Leaving Feedback ~
Steam Designs will leave feedback for every customer once a transaction is 100% complete. This means once an item has been received by the buyer and feedback on the item has been left. If you have any issues when leaving feedback please contact us and we will be more than happy to help.

(Steampunk Jewelry by Steam Designs)
Comments Off
:jewelry, steam designs, steampunk, steampunk jewelry, watch movement
more...